Wilmington Meeting and Banquet Rooms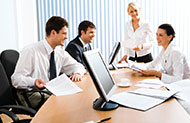 Planning a business meeting, banquet, conference or social affair in the Wilmington area? The Holiday Inn Wilmington is a multi-use conference and banquet center near downtown Wilmington, North Carolina featuring 3300 square feet of meeting space, six versatile meeting rooms, and modern conveniences such as high-speed wireless Internet and projectors.
Seamless Events
Our stylish Ballroom accommodates up to 250 people theatre style or 176 people banquet style, and can be transformed into any theme or décor - from high-tech classrooms to elegant wedding venues. Breakout rooms - generally 500 square feet - comfortably accommodate 40 people theatre style or 24 classroom style and feature cable TV. An intimate boardroom can host up to 14 people for intimate meetings or think-tank sessions. Let our Sales & Meeting Professionals help plan and create your perfect event or celebration in Wilmington.